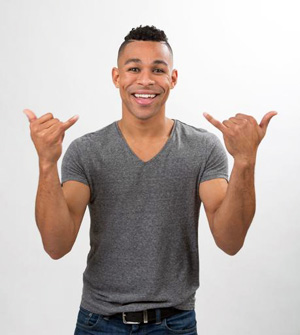 Connection and communication is vital to human relationships and community. Brandon Kazen-Maddox practices connection and communication using an original art form he's created called ASLAD, or American Sign Language (ASL) Acrobatic Dance. He says, "I want to spread its breath, lift, flips and sweeps far and wide across our world, in hopes that one day we humans might communicate through gestures that are so emotive, so communicative, that we won't even have to look twice."
A gymnast since the age of four and a grandchild of deaf adults (or GODA), Brandon maintains a professional career as a freelance American Sign Language Interpreter for the deaf and hard-of-hearing and has worked in the television and entertainment industry through shows involving deaf performers. He has also trained Chinese Acrobats in a Professional Training Program in San Francisco, CA.
Brandon's unique perspective as a biracial, gay artist that has fused communication with movement can help us discover ways to expand how we connect. When asked if he saw his work as a spiritual practice, he said, "Oh definitely!"
About Brandon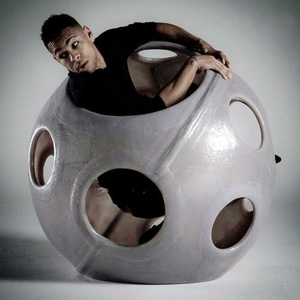 Brandon Kazen-Maddox is a freelance American Sign Language interpreter in the Bay Area who focuses the bulk of his artistic efforts on blending the linguistics of American Sign Language (ASL), the explosive inverted qualities of acrobatics and the technique of various styles of dance to cultivate a new form of performance art he has named American Sign Language Acrobatic Dance, or ASLAD. Brandon has performed works of ASLAD in both live performance and video through his performance company, Body.Language.Productions. Recent works from B.L.P. include a video performance project for the 2013 Bay Area Deaf Dance Festival, an ASL dance duet choreographed by dancer and choreographer Antoine Hunter for the 2014 Black Choreographer's Festival and an upcoming ASL project with Rosa Lee Timm, a notable Deaf performer whose passion is rooted in signing poems and songs in American Sign Language.
Brandon's Mission: To meld the intricate emotions of American Sign Language, the kinesthetic dynamics of rhythm and dance and the percussive qualities of high-energy acrobatics together in order to create a brand-new medium of art that resounds within the souls of hearing and deaf people alike.
Brandon's Motivation: His deaf family members, friends, and fellow dancers who have the ability to feel as far as the sky.
Brandon's Muse: Rhythm, music, and dance that evokes the body to feel compelled to physically and emotionally express itself in a manner all its own.
Watch Brandon's American Sign Language performance: