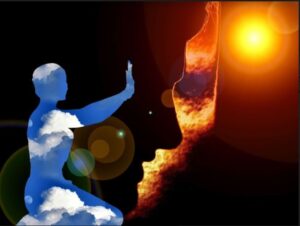 Working with your Locus of Control
January 14 -16, 2022
Virtual
Dear GSV Siblings and Brothers,
The 2021 Gay Spirit Visions Fall Conference is now but an exquisite memory, and we are excited to be making excellent progress planning the GSV Winter Meditation, January 14-16, 2022. First, we want you to know that this event will be virtual (online) and not in person. The ongoing COVID-19 pandemic and the fact that the Winter Meditation will be shortly after many of us have gathered in great numbers for the holidays were the primary factors that led us to this decision. While the GSV Fall Conference in September was blessed with good weather allowing for many gatherings outdoors, along with delicious hugs and joyful camaraderie, this is not likely to be the case in January. There will still be scheduled break-out groups — similar to, yet different from traditional small groups — and opportunities for deeper connection outside of the larger group.
Now for the great news. For the 2021 GSV Fall Conference we did not have a keynote speaker, allowing more time for reacquainting with old friends. For GSV's 2022 Winter Meditation, the GSV Council has engaged Darren Main as keynote speaker. Some of you may remember Darren from the 2011 GSV Fall Conference. Since that initial contact with our organization, Darren expressed the importance of GSV and how critical our work is. Darren is very experienced teaching meditation and yoga (check out his website at DarrenMain.com) and has led many virtual meditation workshops since the COVID-19 pandemic began. We feel that Darren's unique illuminating gifts will provide a high-quality transformative program for our 2022 Winter Meditation. In addition to the keynote presentation, we invite GSV members to submit ideas for workshops, as we have done in the past. Please submit your workshop ideas to [email protected].
The theme of the Winter Meditation is: Working with your Locus of Control. "A locus of control orientation is a belief about whether the outcomes of our actions are contingent on what we do (internal control orientation) or on events outside our personal control (external control orientation)," explains psychologist Philip Zimbardo in his book Psychology and Life. Additionally, your locus of control can have a major impact on your life, from how you cope with stress to your motivation to take charge of your life. Your locus of control can influence not only how you respond to the events that happen in your life, but also your motivation to take action.
Now for the really great news! Because GSV members have so generously supported GSV through donations and silent auction proceeds for the past 32 years, the GSV Council has decided to waive the program fee for all attendees of the 2022 GSV Winter Meditation. Registration is now open, and it is required. Attendance will be limited to the capacity of our Zoom account (approx. 70). It is with a grateful heart that we bring you this message.
We have worked very hard to sustain our hallowed and delightful traditions during these challenging times. We hope you will register and join us for the GSV Winter Meditation on January 14-16, 2022.
Sincerely,
The Council of Trusted Elders of Gay Spirit Visions, Inc.