In addition to the two sessions by our Keynote Speaker, Buddy Wakefield, we have four conversations that will be moderated by members of our tribe. The topics are derived from conversations at conferences over the past few years and from online postings that generated significant interest. You'll be able to attend two of the following conversations:
The Discomfort and Safety of Surviving
with host Scott Dillard
Since the advent of the HIV/AIDS pandemic, many of us have lost a good number of friends, family, and partners. Some of us have carried on our lives as we witnessed the passing of those we loved and also worried for our health at the same time. Still others have wondered, "Why them and not me?" It is a sort of survivor's guilt that makes us wonder about our own mortality, the fairness of life, and how we continue to live with loss.
We will engage in a conversation that seeks to honor those we lost, those we carried for, and our own sense of self in these most trying of times. This is more than a chat. We will do some writing, some sketching, some storytelling that uncovers the emotions we each feel as survivors of the plague. Come prepared to share at our own level of comfort and to contemplate the shared sense of community that living through this has meant.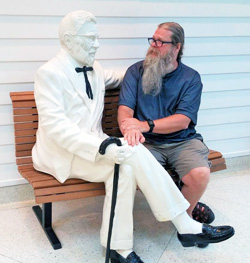 The Discomfort and Safety of Aging
with host Joe Kiser
As I move from one decade to another, I have experienced many changes on many fronts…and backs. How I experience life has evolved. Emotionally, physically and spiritually. From wild to mild and back to wild again. As my body, mind and spirituality evolve, I am presented with opportunities to embrace, deny or adapt. Additionally, questions have arisen for me. What responsibility, if any, do i have for the next generation? What, if anything, can I offer to future generations?
During this session, I will share some of my experiences and the impact of my decisions and reactions. I would also like to hear the experiences and expectations of others.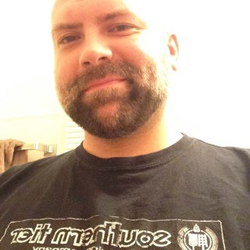 The Discomfort and Safety Around the Gender and Sexuality Continuum
with host Greg Hummel
Man, woman, straight, or gay. Do you remember when these were our only options? For some, these identifiers are enough. But for many of us, these labels are limiting and leave us left out of the conversation. At a time in history when women like Caitlyn Jenner and Laverne Cox are creating (much needed) ripples in our social fabric, we sometimes find ourselves struggling to keep up. Come join me in confronting our discomfort around gender identity and sexuality. Together we can create an even safer GSV environment and a safer world.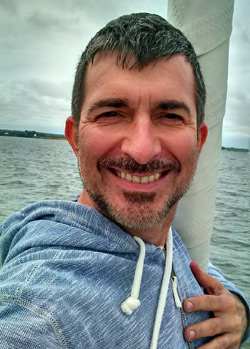 The Discomfort and Safety of Victimization and Oppression
with host Hunter Flournoy
Join us for a discussion of our experiences of victimization and oppression, and how we perpetuate these experiences even within our own community by oppressing each other, and projecting the role of oppressor onto each other. Explore how we can step off of the drama triangle and empower ourselves and each other.