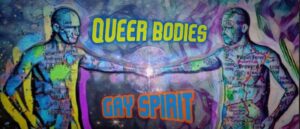 Queer Bodies/Gay Spirit
September 28 – October 1, 2023
The Mountain Retreat and Learning Center, Highlands NC
4 Day/3 Night Package (Thursday through Sunday)
Bunk House (shared room up to 4 people) $285.00
Lodge or Duplex Cabin (double occupancy) $330.00
For All Rooms, Add Mandatory GSV Program Fee $100.00
Check out the Registration System for Optional Extra Nights Before and After the Conference
Convener: Jonny "Mothra" Gray
Keynote Speaker: Tim Miller
Theme
You are cordially invited to join us for the Gay Spirit Visions 2023 Fall Conference. Building on recent GSV gatherings addressing the power and place of story in our lives, our fall conference will dig deep into the connections between stories and bodies. We will ask ourselves: What are the stories we want to keep that connect us with others? How are these stories etched into our skin, muscle, and bone? How can we use these stories to locate spiritual insights in bodily experiences? Author and performance artist Tim Miller will guide us, as he has guided many other queer gatherings, to strengthen our community ties by sharing our experiences in artful, embodied, and ritualized ways.
Keynote Presentation: A Body in the O — Sex/Body/Self
Building off his recent book and solo performance, A Body in the O, Tim Miller offers reflections of the place of embodied experience, queer connections, and spiritual growth. Beginning with a day in 1984 when Miller scrambled up inside the O of the Hollywood sign and imagined the performance space tree house of his dreams (what would become Performance Space 122 in New York and Highways Performance Space in L.A.), A Body in the O journeys through the hoops of the Department of Homeland Security, a queer boy's truth-telling, a performance at Performance Space 122 in 1980, and finally a wedding day in NYC in 2013, as Miller imagines the full possibility of performance that changes the world inside these wooden Os!
Workshop: Queer Body Maps
Our work will be a fun and charged exploration into creating and claiming the stories from our personal lives: from our dreams, obsessions, peeves, memories, and desires. We will be especially exploring that charged border between our bodies and society…our narratives and our politics…ourselves and others. Telling our OWN story doesn't separate us from other people, it connects us.
The goal of the workshop is to share some pathways to create original story sharings from the tremendous energies and narratives that are present in our lives. Using our own memories and myths as a jumping-off point, we will see where a deep sense of personal story creates tellings that jump out from our bodies and conjure new queer communities.
Please bring your hearts and brains and hopes and fears. No performance experience is necessary.
Tim Miller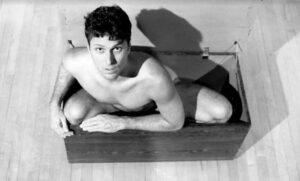 Tim Miller is an internationally acclaimed performance artist. Miller's creative work as a performer and writer explores the artistic, spiritual, and political topography of his identity as a gay man. Hailed for his humor and passion, Miller has tackled this challenge in such pieces as Postwar (1982), Cost of Living (1983), Democracy in America (1984), Buddy Systems (1985), Some Golden States (1987), Stretch Marks (1989), Sex/Love/Stories (1991), My Queer Body (1992), Naked Breath (1994), Fruit Cocktail (1996), Shirts & Skin (1997), Glory Box (1999), US (2003), 1001 Beds (2006), Lay of the Land (2009), Rooted (2016), and A Body in the O (2019).
Miller's performances have been presented throughout North America, Australia, and Europe in such prestigious venues as the Yale Repertory Theatre, the Institute of Contemporary Arts (London), the Walker Art Center (Minneapolis), and the Brooklyn Academy of Music. He is the author of the books Shirts & Skin, Body Blows, 1001 Beds, which won the 2006 Lambda Literary Award for best book in LGBT Drama, and A Body in the O.
Miller and three other artists, the so-called "NEA 4," successfully sued the federal government of the United States with the help of the American Civil Liberties Union for violation of their First Amendment rights and won a settlement where the government paid them the amount of the defunded grants and all court costs. Though the Supreme Court of the United States decided in 1998 to overturn part of Miller's case and determined that "standards of decency" are constitutional criteria for federal funding of the arts, Miller vows "to continue fighting for freedom of expression for fierce diverse voices."
You can find additional information about Tim's work at his website, timmillerperformer.com
Jonny "Mothra" Gray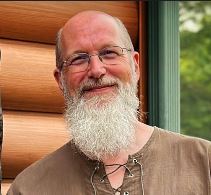 I am an associate professor of Communication Studies at Southern Illinois University in Carbondale where I specialize in Environmental Communication with a particular focus on arts-based environmental advocacy and education. The intersection of LGBTQ and environmental advocacy is also central in my work, fostering a keen interest in Queer Ecology. I have been attending GSV gatherings since the fall of 2016. I had originally hoped to convene with Tim Miller as the keynote speaker in the fall of 2020, but a global pandemic forced us to consider a more online-friendly conference keynote and theme. We are happy to finally share Tim's incredible work and insights this fall.
In addition to my academic career, I am proud to serve my community as Sister Mothra Stewart, a member of the SOIL Sisters, a fully professed House in the Sisters of Perpetual Indulgence. My path into the Sisterhood began at the GSV 2017 Fall Conference — a reminder that the seeds we plant at these gatherings can yield some delicious fruit.
Scholarship Information and Application Deadline
Financial assistance in the form of scholarships is available. The financial assistance application submission deadline is September 16. We hope that anyone who resonates with our mission and community, and who has the desire to attend, can join us at our gatherings. To that end we offer financial assistance through the Raven Wolfdancer Financial Assistance Fund. Please go to the
Financial Assistance page
on the Gay Spirit Visions website for more information and for a link to the GSV financial assistance application form. Remember, the financial assistance application submission deadline is September 16.
Registration
Registration for the GSV 2023 Fall Conference is open now. The GSV Council has asked me to remind all who plan to register that single occupancy requests must be cleared with the Council and require a medical excuse. For private room consideration please email
[email protected]
Registration closes Saturday, September 23 at 5:00 PM. We remind you that recent fall conferences have reached capacity long before registration closes, so you are encouraged to register as soon as possible. All questions about the conference should be directed to the Council [email protected] rather than The Mountain.
Jonny "Mothra" Gray
GSV 2023 Fall Conference Convener