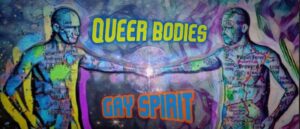 Queer Bodies/Gay Spirit
September 28 – October 1, 2023
The Mountain Retreat and Learning Center, Highlands NC
4 Day/3 Night Package (Thursday through Sunday)
Bunk House (shared room up to 4 people) $285.00
Lodge or Duplex Cabin (double occupancy) $330.00
For All Rooms, Add Mandatory GSV Program Fee $100.00
Check out the Registration System for Optional Extra Nights Before and After the Conference
Convener: Jonny "Mothra" Gray
Keynote Speaker: Tim Miller
Hello Friends!
You've seen the email about the GSV 2023 Fall Conference. We've got some good things planned already, and I am getting excited about the conference.
Call For Workshops
As usual, there are times on the schedule for break-out workshops and activities. If you have a break-out workshop or activity you would like to facilitate (and, well, you are planning to attend the conference), please send me the following information: your name (as you would like it listed in the conference schedule), the title of the workshop/activity, a brief description for the conference program, facility/set-up requirements, and an explanation to help me understand what you want to do. I can't guarantee I can accept all submissions, but I'll do my best to provide a variety of options. Remember: we like these break-out workshops and activities to be more interactive and participatory than presentational.
Please email your proposal to me at [email protected] by August 15th. Ideas half-baked and in-process are also welcome.
Let's see what we can cook up together.
Scholarship Information and Application Deadline
Financial assistance in the form of scholarships is available. The financial assistance application submission deadline is September 16. We hope that anyone who resonates with our mission and community, and who has the desire to attend, can join us at our gatherings. To that end we offer financial assistance through the Raven Wolfdancer Financial Assistance Fund. Please go to the
Financial Assistance page
on the Gay Spirit Visions website for more information and for a link to the GSV financial assistance application form. Remember, the financial assistance application submission deadline is September 16.
Registration
Registration for the GSV 2023 Fall Conference is open now. The GSV Council has asked me to remind all who plan to register that single occupancy requests must be cleared with the Council and require a medical excuse. For private room consideration please email
[email protected]

.
Registration closes Saturday, September 23 at 5:00 PM. We remind you that recent fall conferences have reached capacity long before registration closes, so you are encouraged to register as soon as possible. All questions about the conference should be directed to the Council ([email protected]) rather than The Mountain.
Jonny "Mothra" Gray
GSV 2023 Fall Conference Convener